University of Michigan Moving Storage Service Provider
This page is dedicated strictly to staff, student and alumni of the University of Michigan. The purpose of this website is to provide you with specialized information. If you have any questions or require personal attention, please contact us at 800-448-6683 and ask for:
Matt Adams (x232):

General inquiries

Susan Burger (x228):

Commercial, laboratory and international relocations
How We Support The University Of Michigan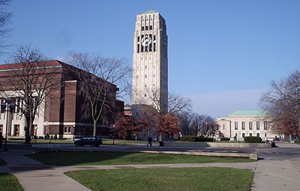 University Moving and Storage, as a strategic supplier to the University of Michigan, provides moving and storage services throughout the campus:
Health System

C.S. Mott Children's Hospital
Von Voigtlander Women's Hospital

Athletics Department
Business School
U of M Lawyers Club
University Moving and Storage is a supplier of moving, storage and distribution services to household, corporate and government clientele since 1969. We provide these services for customers moving locally, intrastate, interstate and internationally.
Quick Facts
Headquartered in Farmington Hills, MI with offices in Grand Rapids, MI; Cincinnati, OH; and Indianapolis, IN
Consistently ranked among the top 5 domestic and international agencies in the country for North American Van Lines, an industry leader worldwide
An organizational average of 22 years of experience in the moving industry
100% certified crews
Free consultations
Warehousing capacity of over 200,000 sq. ft. collectively. All warehouses feature:

State of the art fire protection
Racked and vaulted storage
Oversized grade and dock height doors

Certified WBE through the Women's Business Enterprise National Council (WBENC)
American Express, Discover, MasterCard & Visa accepted
Commitment to "Lifelong Customers"
University Moving and Storage is an annual recipient - for both domestic and international moving services - of the Customer Choice Quality Award, North American Van Lines's premier and most prestigious honor. The award is given to those agents for their excellent performance based on customers' perceptions of services received during their relocation. A Quality Index is used to measure the moving company's performance in many areas, including the sales, moving and delivery processes. Survey questions cover specific performance based on an agent's role in the moving process.
Moving And Storage Service Pricing
University Moving and Storage has a Supplier Service Agreement in place with the University of Michigan. As such, there are fixed rates built-in for local moving activity. We also utilize a national Household Goods Schedule of Rates Contract through North American Van Lines for interstate moving services. Because of their unique nature, each and every move will be personally evaluated by a University Moving and Storage Relocation Consultant.
If you have any questions or require personal attention, please contact us at 800-448-6683 and ask for:
Matt Adams (x232):

General inquiries

Susan Burger (x228):

Commercial, laboratory and international relocations