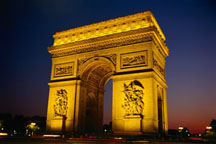 Our personalized approach to moving reflects the person behind each move. Because every customer is different, no two moves are ever the same. If you have a concern, we adopt that concern as our own and work toward a solution that's right for you.

We work to tailor our international moving services to your unique needs. As part of the North American agent family, we've been helping families relocate across the world. When it comes to moving around the world there's no substitute for experience. You can be sure that University Moving and Storage has what it takes to make your international move go as smoothly as it possibly can.
All around the world, our dedicated team of employees and representatives are there for you. From pre-move planning to clearing customs at your destination, our team will make you part of the process every step of the way.
The International Move Process
Your move will be assigned to a move coordinator—a highly trained expert whose job is to keep you informed and to orchestrate every element of your relocation. Your move coordinator will oversee your entire move, from developing your estimate to helping you prepare for customs requirements in your destination country.
Unpacking
We'll give you a hand with settling in with thoughtful unpacking procedures that make it easy. Plus, we'll perform a careful inspection and inventory of all your items and clean up packing materials and debris.
Getting Around in Your New Neighborhood
Your move coordinator in the destination country will not only arrange delivery of your household goods, they are also a wealth of information about culture, climate, schools, government, dining, and much more. You'll feel less like a stranger in a strange land and more like a local.